May 08 2017
Saturday, May 13, is Ivy Tech graduation at Columbus North High School's main gymnasium.
When to be where:
Load at Central Middle School: 8:15 a.m.
Call time: 9 a.m.
Tune-up: 9:20 a.m.
Pre-game music: 9:30 a.m.
Announcements. Announcements. Announcements.
Processional/anthem: 10 a.m.
Ceremony. Ceremony. Ceremony.
Afterward: Recessional.
Please help reload trailer and unload at CMS.
What to wear:
Men: Black jackets, pants, shoes, ties, socks; white shirt.
Women: Black tops, bottoms, socks, shoes.
Where to be:
Columbus North High School
1400 25th St, Columbus
Parking: We're to park in the reserved parking area east of the gymnasium, off Maple Street. It's the red-circled 24 on the far right of the map below.
We'll be setting up in the back left corner of the gym.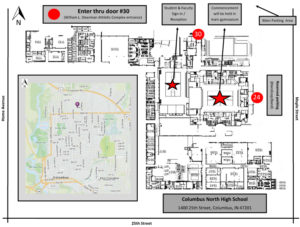 Thank you!
Leave a Reply