Jul 22 2017
Time for our last concert of the season at the Jackson County Fairgrounds in Brownstown at 7 p.m. on Tuesday, July 25.
Please help load and unload at the school and at the fair. More hands make much quicker work!
Note: Allow plenty of travel time, because traffic can get heavy.
Load at CMS: 5:15 p.m., on the road by 5:30 p.m.
In seats: 6:30 p.m.
Downbeat: 7 p.m.
Summer fashions:
Tops: Tan band polo shirts or close cousin.
Bottoms: Black pants/skirts/shorts and shoes.
Directions:
From Seymour, take U.S. 50 west into Brownstown.
Go to the second stoplight and turn left (Hwy. 250/Commerce Street).
Take last parking entrance at the south end of the fairgrounds.
Parking is free.
Our pavilion is by the tractor displays.
Map:
Click the map below to enlarge a view of the fairgrounds.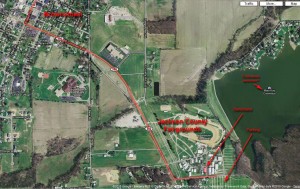 Have a great rest of your summer! Monday rehearsals resume Monday, Aug. 28, to prepare for our Oct. 1 concert.
Leave a Reply