Nov 25 2017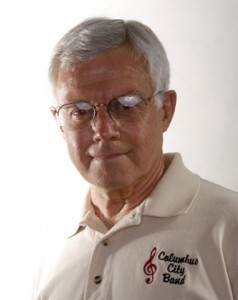 Stephen E. McGrew has been conductor and music director of the Columbus City Concert Band since 1995, succeeding Leslie Gilkey, who had been conductor since 1987.
Steve was director of bands at Seymour High School for 32 years, retiring June 30, 2001. He previously taught at Centerville High School for two years. Steve holds bachelor's and master's degrees from Indiana State University and has studied at Purdue University and Indiana University.
Steve has performed with the Columbus Philharmonic Orchestra, the Columbus City Concert Band, the Schulhaus 4+3 and a local Dixieland band. Steve also writes and edits Bandstand, a column published in the Indiana Music Educator's Association magazine.
Steve does frequent adjudicating and guest conducting. He is also a clinician for the IMEA Noncompetitive Festivals throughout the state. He and his wife, Jo, who plays saxophone in the band, have four children and one grandson.

Motivational Uncle Steve-isms
"No one got hurt."
"May lightening strike you."
To trumpets: "It says 'moderately slow and pompous.' Can we do pompous?"
"That's usually where it falls apart. … It didn't disappoint."
"It would be better if it were in tune."
"There's always togetherness until we get to the hangover. … Isn't that always how it is though?"
"Don't chase notes like you chase girls."
"Let 'er rip! … Within the realms of good taste."
"I said it was ALMOST repulsive."
Points to head: "Kidneys."
"Don't get hostile!"
"So close it's pitiful."
"It didn't sound all that bad, except it was wrong."
"It was almost really good."
"It's a long afternoon before we get to beat four."
"Did anyone get hurt?"
"Pick your favorite note and hold it. … I don't like your favorite note — pick another one."
"It's not as disastrous as you're making it out to be."


6 Responses to "The director"
Leave a Reply