Apr 27 2009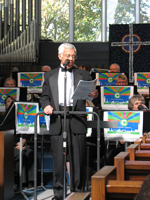 The CCB was organized and officially chartered by the Bartholomew County Commissioners in 1847. The band was in continuous operation until the mid-1950s, after which the band's uniforms and music were donated to Hope High School.
In 1963, the Columbus Parks and Recreation Department organized a summer band, which met for about six weeks each year and performed at various city parks. This primarily youth-oriented program operated through the summer of 1983. At that time, the parks band program expanded to a year-round activity sponsored by the Columbus Board of Parks and Recreation.
On Monday, Sept. 12, 1983, 38 musicians in the newly organized Columbus City Band held their first rehearsal in nearly 30 years. On Nov. 11, 1983, a proclamation by Mayor Nancy Ann Brown established the band as the official Columbus City Band. The Columbus Board of Parks and Recreation continues to sponsor the band, and grants have been received from the Custer and Nugent Foundations.

For more information, contact one of our band officers.


Leave a Reply